TINA - The Rock Legend - The Ultimate Tribute - Explosiv! Authentisch! LIVE on stage!
Merseburger Straße 14
06667
Weißenfels
Tickets from €45.90
Concessions available
Event organiser: RESET Production, Straße des Friedens 200, 07548 Gera, Deutschland
Event info
Das einzigartige Tribute-Event "Tina – The Rock Legend" bringt Tina Turners feurige Bühnenshow auf Tour.

"Die große Tina Turner - eine absolute Ausnahmekünstlerin. Ihr einzigartiges Lebenswerk feiern und ehren - das ist unser Anspruch bei TINA - The Rock Legend" so Michael Noll, Geschäftsführer von Reset Production.

Die Verehrung für die Rock Legende spürt man in der aufwändig produzierten Multimedia-Show vom ersten bis zum letzten Ton.

"Nutbush City Limits", "Let's Stay Together", "What's Love Got To Do With It", "Break Every Rule", "Typical Male", "Foreign Affair", "Simply The Best", "GoldenEye". Ein Superhit jagt den nächsten – performed mit einer umwerfenden Wucht und leidenschaftlicher Bühnenpräsenz durch das hochkarätig besetzte Ensemble aus erstklassigen Sängern, Musikern und Tänzern ist das Tribute-Konzert unfassbar nah am Original.

Erleben Sie eine beeindruckende musikalische Retrospektive über das Lebenswerk des Superstars Tina Turner in einem einzigartigen Tribute-Konzert der Superlative.

Explosiv! Authentisch! LIVE on stage!
Videos
Location
Kulturhaus Weißenfels
Merseburger Strasse 14
06667 Weißenfels
Germany
Plan route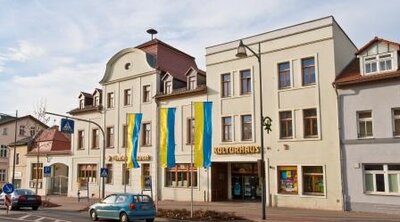 Als zentraler Veranstaltungsort in Weißenfels lockt das Kulturhaus mit seinem breitgefächerten Programm aus Theater, Musical, Kabarett oder Konzert wöchentlich viele begeisterte Besucher in seine Hallen. Das Haus kann sich dabei auf eine über hundertjährige Tradition berufen.

Bereits 1872 wurde das heutige Kulturhaus erstmals erwähnt und war mit seiner Nutzung als Theater und Varieté schon seit 1898 kultureller Anlaufpunkt der Bürger von Weißenfels. Mit einem Brand, der 1987 das Bühnenhaus zerstörte, kam der Spielbetrieb fast zum Erliegen, doch nach der Rekonstruierung des Saales konnte der bis dahin eingeschränkte Spielbetrieb 1998 wieder aufgenommen werden.

Im Großen Saal finden bis zu 1.000 Gäste Platz, mit Einbezug des Wintergartens sogar noch mehr. Der Klubsaal ist perfekt für kleinere Anlässe geeignet, durch Konferenzräume wird das Raumangebot erweitert. Das Theaterrestaurant Weinheimisch sorgt bei jeder Veranstaltung für den passenden kulinarischen Genuss, egal ob in Form eines festlichen Dinners oder eines exklusiven Cateringangebots.