Event organiser: English Theatre Berlin, Fidicinstraße 40, 10965 Berlin, Deutschland
Die Veranstaltung ist leider abgesagt. Weitere Informationen folgen.
Event info
2020 Expo - Day Four

A theater play about the impossibility of mistaking a bird for any other animal because of its feathers.

This is a minimalist piece that encapsulates eastern civiliza-tion, in a certain sense. It is a work that examines existence, responsibility, the high risk of love, aesthetic blindness and the role of art in the modern world. It provides a humorous per-spective on human relations as an incredibly unique cosmos in need of revision and reunion. It is an attempt to make the gaze more tender, using the quiet joy of braveness that can over-come fear through love. It envisions the present as a moment of coexistence, as eternity. In the end, even death unites us.
Location
THEATER THIKWA
Fidicinstraße 40
10965 Berlin
Germany
Plan route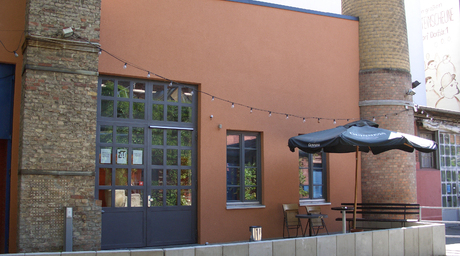 Das F40 in Berlin Kreuzberg ist seit Januar 2006 die gemeinsame Spielstätte des English Theatre Berlin und des Integrationstheaters Theater Thikwa. 90-140 Zuschauer finden vor der großen Bühne Platz. Zusätzlich bietet die Studiobühne eine Kapazität von 50-70 Plätzen.

Zur Berliner freien Szene gehörend, ist das English Theatre Berlin die einzige ausschließlich englischsprachige Bühne der Hauptstadt. Von Klassikern bis zu Neuentdeckungen, aber auch Sprechtheater und Comedy stehen hier auf dem Programm und regen Künstler und Publikum zu einem gemeinsamen Gespräch über einander und die Welt in der wir leben an. Daneben werden die Inszenierungen des Theater Thikwa von Schauspielern mit und ohne Behinderungen gemeinsam erarbeitet und auf die Bühne gebracht. Es sollen dabei nicht nur die Unterschiedlichkeiten, sondern vor allem auch die Gemeinsamkeiten der teilnehmenden Künstler zum Ausdruck gebracht werden. Auf experimentelle Weise werden die Bereiche Schauspiel, Performance, Musik, Sprache und Tanz auf ihre Abgrenzungen hin untersucht.

Zwei auf den ersten Blick völlig unterschiedliche Theater arbeiten im F40 erfolgreich unter einem Dach und locken sowohl die Liebhaber der englischen Bühne, wie auch in sozialer Hinsicht Experimentierfreudige in ihre gemeinsamen Hallen.