Abgesagt
Bisheriges Datum:
Exotic Animal - Dance Performance
Ming Poon &nbsp
Fidicinstr. 40
10965
Berlin
Event organiser: English Theatre Berlin, Fidicinstraße 40, 10965 Berlin, Deutschland
Hier keine Tickets verfügbar
Event info
"The master´s tools will never dismantle the master´s house" - Audre Lourde

Exotic is warm and spicy. It is one letter away from erotic. It promises adventure. Exotic is somewhere far away and foreign. Exotic is strange, but also very appealing and desirable. It is always over there, not here; them, not us; you, never me. Exotic is dark and mysterious, but its threat is tamed and contained.

The exotic industry has become a big and lucrative market, offering goods and services ranging from food, fashion, music, books, health products, workshops, collectibles, antiques to cultural attractions, theme events, tourism and corporate branding. It has often been touted as a fun and light way to promote the appreciation and experience of foreign cultures. But is it as innocent as it appears? What lurks beneath its foreigner-friendly surface? This collaborative performance invites the audience to see what it takes to create the ideal exotic look.
Location
THEATER THIKWA
Fidicinstraße 40
10965 Berlin
Germany
Plan route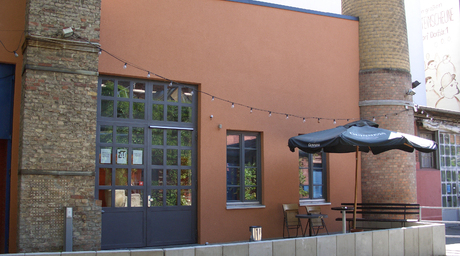 Das F40 in Berlin Kreuzberg ist seit Januar 2006 die gemeinsame Spielstätte des English Theatre Berlin und des Integrationstheaters Theater Thikwa. 90-140 Zuschauer finden vor der großen Bühne Platz. Zusätzlich bietet die Studiobühne eine Kapazität von 50-70 Plätzen.

Zur Berliner freien Szene gehörend, ist das English Theatre Berlin die einzige ausschließlich englischsprachige Bühne der Hauptstadt. Von Klassikern bis zu Neuentdeckungen, aber auch Sprechtheater und Comedy stehen hier auf dem Programm und regen Künstler und Publikum zu einem gemeinsamen Gespräch über einander und die Welt in der wir leben an. Daneben werden die Inszenierungen des Theater Thikwa von Schauspielern mit und ohne Behinderungen gemeinsam erarbeitet und auf die Bühne gebracht. Es sollen dabei nicht nur die Unterschiedlichkeiten, sondern vor allem auch die Gemeinsamkeiten der teilnehmenden Künstler zum Ausdruck gebracht werden. Auf experimentelle Weise werden die Bereiche Schauspiel, Performance, Musik, Sprache und Tanz auf ihre Abgrenzungen hin untersucht.

Zwei auf den ersten Blick völlig unterschiedliche Theater arbeiten im F40 erfolgreich unter einem Dach und locken sowohl die Liebhaber der englischen Bühne, wie auch in sozialer Hinsicht Experimentierfreudige in ihre gemeinsamen Hallen.