Backyard Babies + The Bones - Support: The Wildhearts
Gwinnerstraße 5
60388
Frankfurt am Main
Event organiser: FOH Rhein Main Concerts GmbH, Gwinnerstr. 5, 60388 Frankfurt am Main, Deutschland
Eventuell sind noch Karten an den örtlichen Vorverkaufstellen oder der Abendkasse erhältlich.
Event info
BACKYARD BABIES - BIO

For 30 years, Backyard Babies has delivered top of the line rock´n´roll, both live and recorded. The fact that the original four guys that started the band still are playing together, is next to unique.
The new album "Sliver & Gold" was recorded in the classic Park Studios (also known as the "Psych Bunker") and produced by the legendary Chips Kiesbye (known from Sator among others). Fittingly, the first single from the album - "Shovin' Rocks" - is about "30 years of rock'n´roll".
But let´s take it from the top.

THE BONES are back in the ring with another swing!

Is it really already five years ago since Sweden's finest Punk'n'Roll outfit took over our stereos with
"Burnout Boulevard"? Apparently it is, but the good news is: the wait is over. On "Monkeys With Guns",
the fifth studio album in their enduring career, THE BONES are back blazing with 15 (17 on the Limited Edition and LP) blistering, hard hitting new tracks of perfect Punk'n'Roll marriage material made in hell.


THE WILDHEARTS

For 3 decades The Wildhearts have remained at the forefront of the British rock scene. From their classic debut album 'Earth Vs' (voted number one album of the year in Kerrang! back in 1993, and number 20 in the best rock albums of all time in a Kerrang! Special in 2006), through to now with the release of 'Renaissance Men', their first full-length studio album in 10 years, their creative output and legendary live shows have been second to none.
Creatively brilliant, The Wildhearts helped change the landscape of British rock through the 90's, and to this day they haven't shown any sign of slowing down.
Here's to the next decade.
Location
Batschkapp
Gwinnerstraße 5
60388 Frankfurt am Main
Germany
Plan route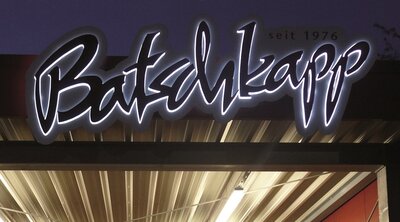 Die Batschkapp gehört schon seit Jahren zu den angesagtesten Konzertlocations Frankfurts. Nirvana, Die Toten Hosen, Lenny Kravitz und Marteria haben in diesem Club dem Publikum eingeheizt. Und nachdem die Batschkapp 2013 in ein größeres Gebäude umgezogen ist, können wesentlich mehr Menschen den tollen Konzerten beiwohnen.

Schon seit 1976 gehört die Batschkapp, deren Name sich auf die Dialektbezeichnung für eine Schiebermütze bezieht, zur Frankfurter Club-Szene. Nach fast vierzig Jahren ist der Club aus Eschersheim weggezogen und hat sich in der Gwinnerstraße 5 im Stadtteil Seckbach niedergelassen. Hier präsentiert sich die Batschkapp nun in einem neuen und sehr viel größeren Gewand. In den großen Saal und auf die Empore passen insgesamt 1.500 Besucher. Die Kapazitäten der alten Batschkapp werden schon durch die Empore abgedeckt. Hinzu kommen technische Neuerungen und etwas mehr Komfort. Der Umzug aus den Gemäuern der alten Batschkapp wurde zwar immer wieder kontrovers diskutiert, aber die Verbesserungen, die für das Publikum spürbar sind, haben die Gemüter beruhigt. Die Batschkapp hat auch durch ihren Umzug nichts von ihrem Charme eingebüßt und lockt noch immer mit hochkarätigen Konzerten und Club-Nights.

Erleben Sie hier Konzerte der Extra-Klasse. Die Batschkapp gehört schon seit Jahrzehnten zu den besten Locations Frankfurts und wird mit Sicherheit auch in vielen Jahren noch ein wichtiger Teil der Konzert-Szene sein. Schauen Sie hier auf jeden Fall vorbei – es lohnt sich!